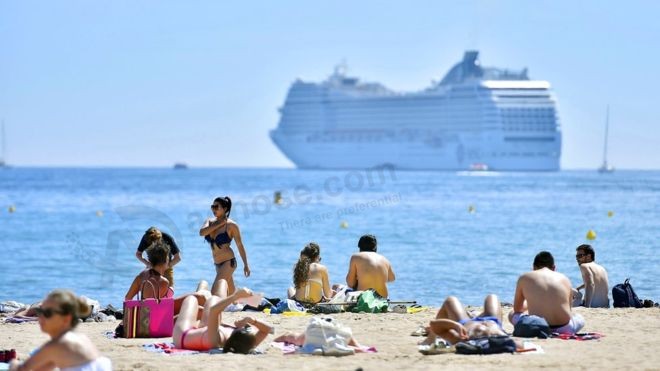 Efforts to crack down on UK tourists making fake claims for holiday sickness are being stepped up by the government.
It is proposing rules that would limit payouts by travel companies, which it hopes will deter bogus claims.
The Association of British Travel Agents (Abta) said there were about 35,000 claims over holiday sickness in 2016, a 500% rise since 2013.
The travel industry says the total cost of all claims was £240m in 2016 and risks raising holiday prices for all.
Abta says those making a successful claim typically get a payout of £2,100, but the cost to defend a claim is £3,800.
Industry experts have been to submit evidence to the Ministry of Justice. It is proposing rules that would mean there would be a maximum amount travel companies would pay for personal injury claims abroad.
At the moment, the law only specifies maximum amounts paid out for personal injuries sustained on UK soil.
"That is a loophole being taken advantage of by unscrupulous lawyers," a ministry spokesperson said.
The ministry is hoping to have new rules on holiday sickness claims set by next year.
Pushing up costs
Justice Minister Dominic Raab said: "Bogus claims against tour operators risk driving up the price of summer holidays abroad for hard-working families who have earned a break."
James Dalton, director of general insurance policy at the Association of British Insurers, said: "Claims firms and lawyers can make completely disproportionate sums of money from encouraging bogus sickness claims overseas, meaning the compensation cowboys have turned their attention to holiday resorts.
"All British holidaymakers will pay the price in the long run as this activity pushes up costs."
Abta said the spike in claims against resort and hotel owners also had knock-on effects for UK holidaymakers overseas.
The industry body says the spike in sickness claims is not apparent from any other tourist nationality group and is not being reported while holidaymakers are staying in the resort.
"These claims are also tarnishing British holidaymakers' reputation abroad, particularly in Spain where they are costing hoteliers millions of pounds. It is crucial that the government brings in new rules which control legal costs on holiday sickness claims as soon as possible".
In June, Abta launched a campaign to tackle the problem, saying it was "one of the biggest issues that has hit the travel industry for many years".
It said tens of thousands of holidaymakers had made claims in the past year, despite reported sickness levels in resorts remaining stable.
Abta said holidaymakers pursuing fake or exaggerated claims risked being barred from resorts or ending up in prison.