The Cannes Lions International Festival of Festivals originated at the Cannes Film Festival and was originally initiated by a film advertising media agency. It was followed by posters and awards, ideas, and networking. Cannes International Creative Festival has gradually developed into an important advertising and creative industry exhibition in the world, and is known as the "Oscar of Advertising".
This year's Cannes International Creative Festival was held in Cannes, France on June 21st. The advertisers and brand owners focused on this and witnessed the most outstanding advertising works of the past year. The small screen will bring everyone to review Cannes International's creativity. A wonderful digital outdoor advertising case in the festival.
1, Burger King - AR digital outdoor advertising
Burger King launched an event called "Burn That Ad" in Brazil. Burger King created an immersive interactive AR experience in his app, and consumers can use their mobile phones to turn McDonald's ads into Burger King ads.
In Brazil, McDonald's invested four times more in outdoor media than Burger King. Through the app, mobile users can point their smartphone camera to a billboard or flyer from a competitor such as McDonald's, and they can get an interesting AR experience. Users can then receive a redemption voucher from the nearest Burger King. The store redeems the burger. This idea is a manifestation of Burger King's signature flame barbecue cooking technique, which has been in use since its opening in 1954.
2, Volvo - to help competitors to sell
Volvo has launched a new model, the XC 60, and other brands of diesel drivers are very interested in buying the new Volvo XC 60 diesel. In order to be able to afford the XC 60, these customers first need to sell their diesel cars. But selling second-hand luxury diesel cars in Brazil is not easy, and it can take months, for the simple reason that the country is experiencing a severe economic crisis. The purchasing power of Brazilians has dropped a lot.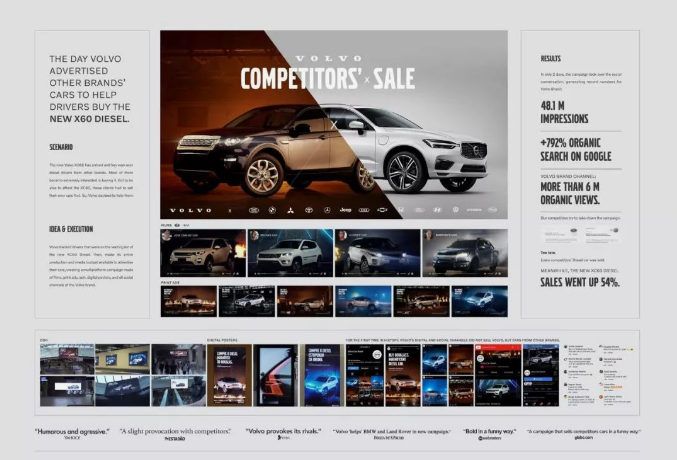 To help target customers quickly sell their second-hand luxury diesel, Volvo plans a marketing campaign for these customers to help them sell used cars through digital outdoor media channels. The posters include models, prices, names, phone numbers, and if anyone wants to buy them. You can contact the owner directly. This advertisement is advertised as a seat for each brand. In fact, it is for Volvo's new car. It creates a car owner who wants to buy the Volvo XC 60.
3, UBER - see you soon
Uber has more than 60,000 pilot partners in Australia, and the average waiting time for taxis is less than 4 minutes to meet the needs of each passenger. After launching a global brand update, Uber launched a new brand event "See You Soon" in Sydney through a special group.
Whether you are late for meeting with friends, rushing home to see your children, or going home as soon as possible after working all day... Sometimes every minute is important, "See you soon", Uber can do it for you. Uber launched a 60-second and 30-second streamlined video, and launched a corresponding scene poster with the theme of "timely pick-up".
At the same time, more than 400 iconic digital outdoor media access to the Uber application's API, real-time UBER vehicles can reach the real time of the location, so that everyone can experience Uber.