In these days of digital media, it's easy to overlook the art of print ads. But the medium is still as relevant and powerful as vintage posters ever were, whether small scale magazine ads or huge billboard advertising. As Paul Arden states in It's Not How Good You Are, It's How Good You Want To Be: "Print advertising should be recognisable at a hundred paces, and it should be obvious who it's an ad for without seeing the brand name."
No matter what the medium, you still need a concept that's going to stick in people's minds. We think these examples of print advertising do just that.
01. Chambord
Like randomly placed cabbage? Go for it! No reason needed.


Wieden+Kennedy London were tasked with raising the profile of Chambord among a target audience of women aged 24-35. They used the campaign to push back against the pressure on women to conform to certain rules with their "Because No Reason" tagline that says encourages people to do what they like, just because they like it.
02. TK Maxx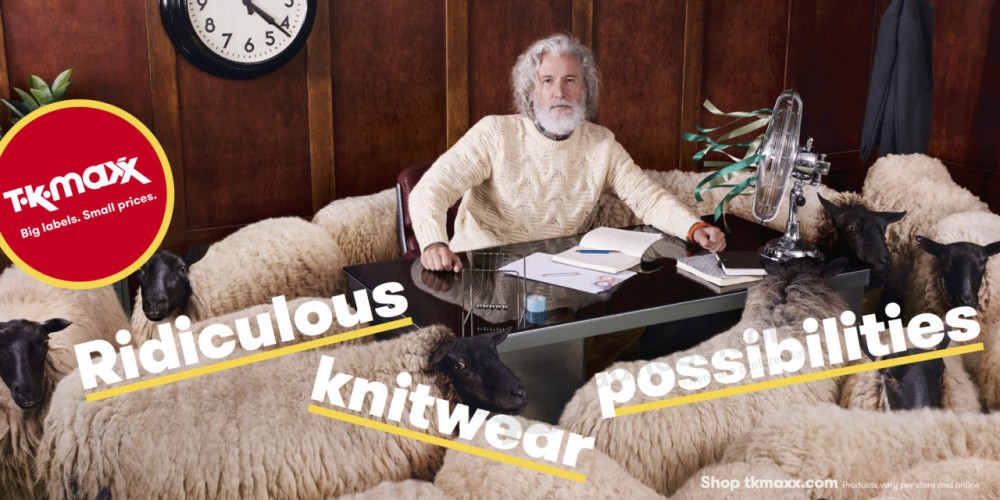 It's true: there's crazy knitwear in TK Maxx


You never know what you'll find when you go shopping in TK Maxx, and this aspect of the shop is brought to the fore by this campaign emphasising the "ridiculous possibilities" that lie inside.


03. Jeep
Deer or penguin? You decide.


The meaning of the tagline "See whatever you want to see" is smartly turned on its head with a series of images that can be seen in two ways: one way it's a deer, the other way it's a penguin.


04. Penguin Audiobooks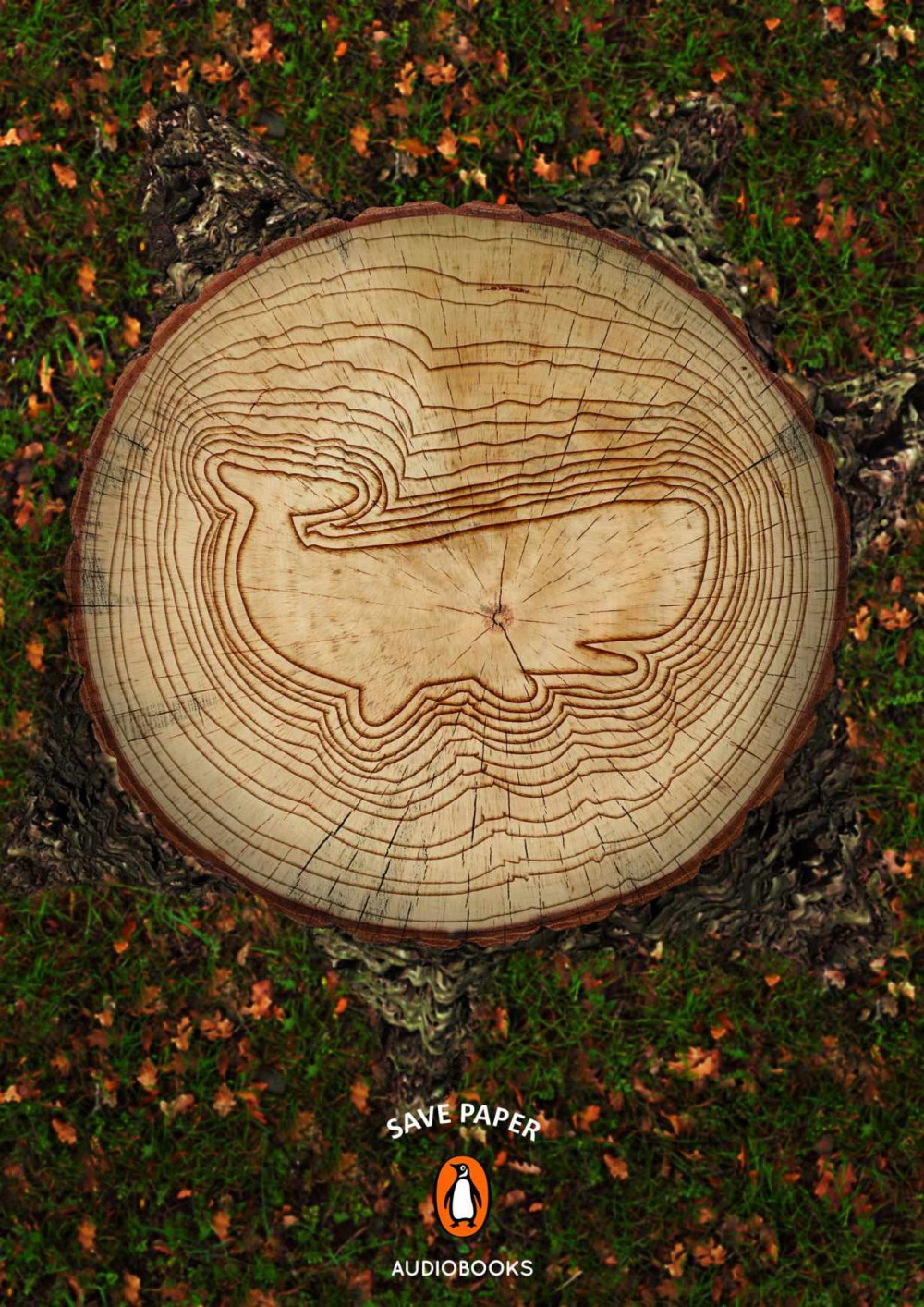 The Miami Ad School saves paper with this clever print ad


You've got to give it to the Miami Ad School – taking a company that have made their worth through the selling of paper books, this print ad is a bold step but one that we think works really well. The intricate illsutration in the bark is a lovely touch.
05. Gripex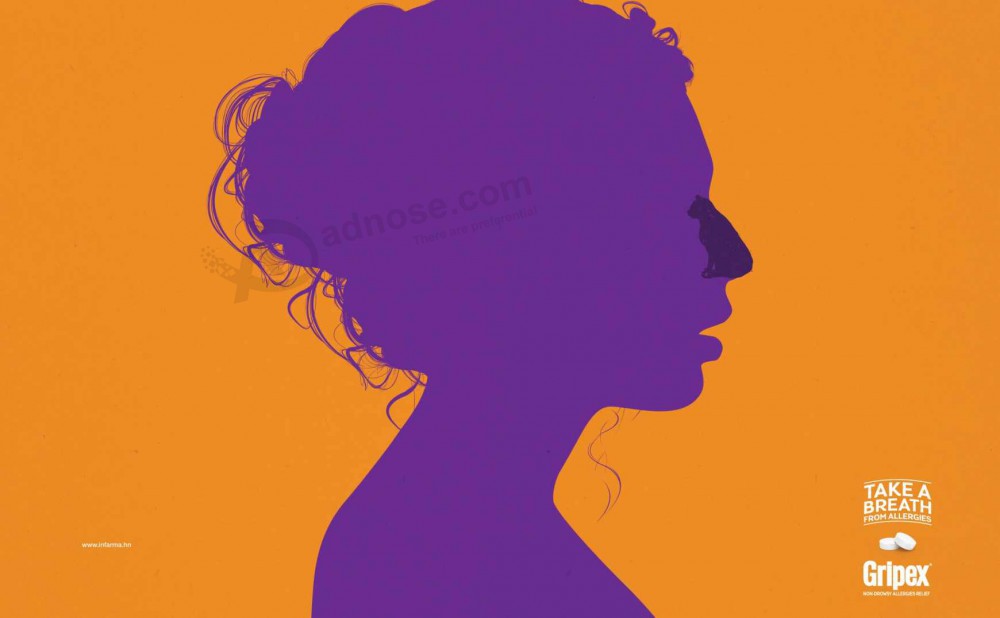 Ogilvy & Mather lend their talents to another successful print ad


Ogilvy & Mather once again prove themselves as print advertisement masters with this clever approach to allergy medicine. Using simple yet effective colours and simple illustrations means that this is an ad that pops from the page.


06. UNEP: Skyline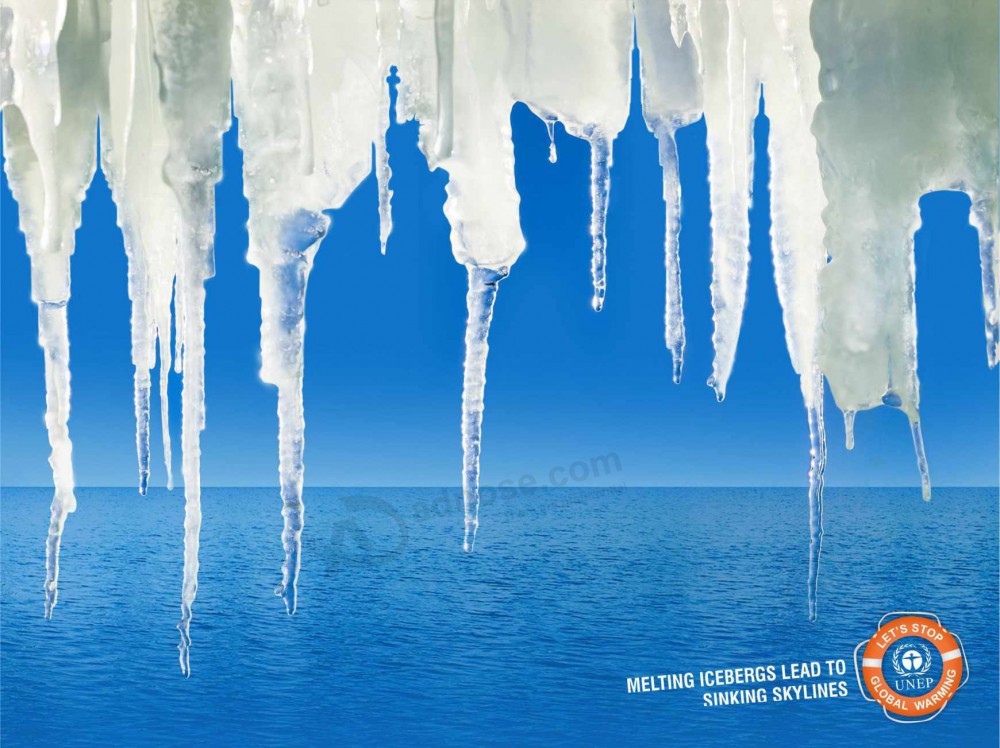 This print ad brings the message of global warming home


Print advertisments raising awareness of important causes such as global warming have to be instantly striking. This offering from Vinay Saya and Siddarth Basavaraj cleverly uses Photoshop to produce a skyline within the ice. Bringing the campaign closer to home will enable the viewer to recognise the message quicker and more effectively.
07. Fevikwik Instant Adhesive: Teapot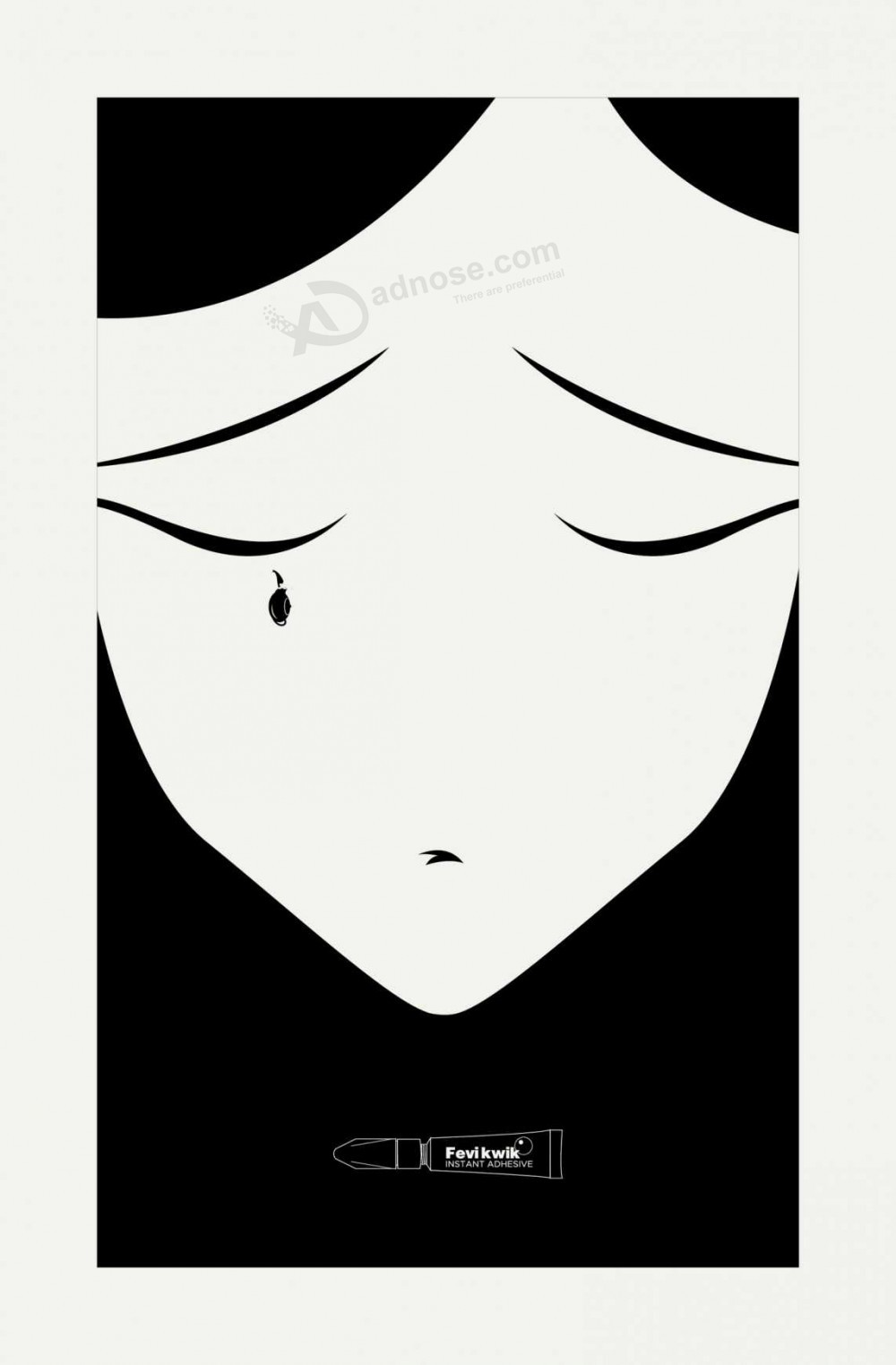 The monochrome colour scheme perfectly compliments the output


Ogilvy & Mather are known for creating some of the best print advertisements around the world. This is just another example of their brilliant work. Created for Fevikwik Instant Adhesive, it's one of a three-part print advertisement series that uses clever illustration and a monochrome colour scheme to its fullest potential.


08. Rolling Stone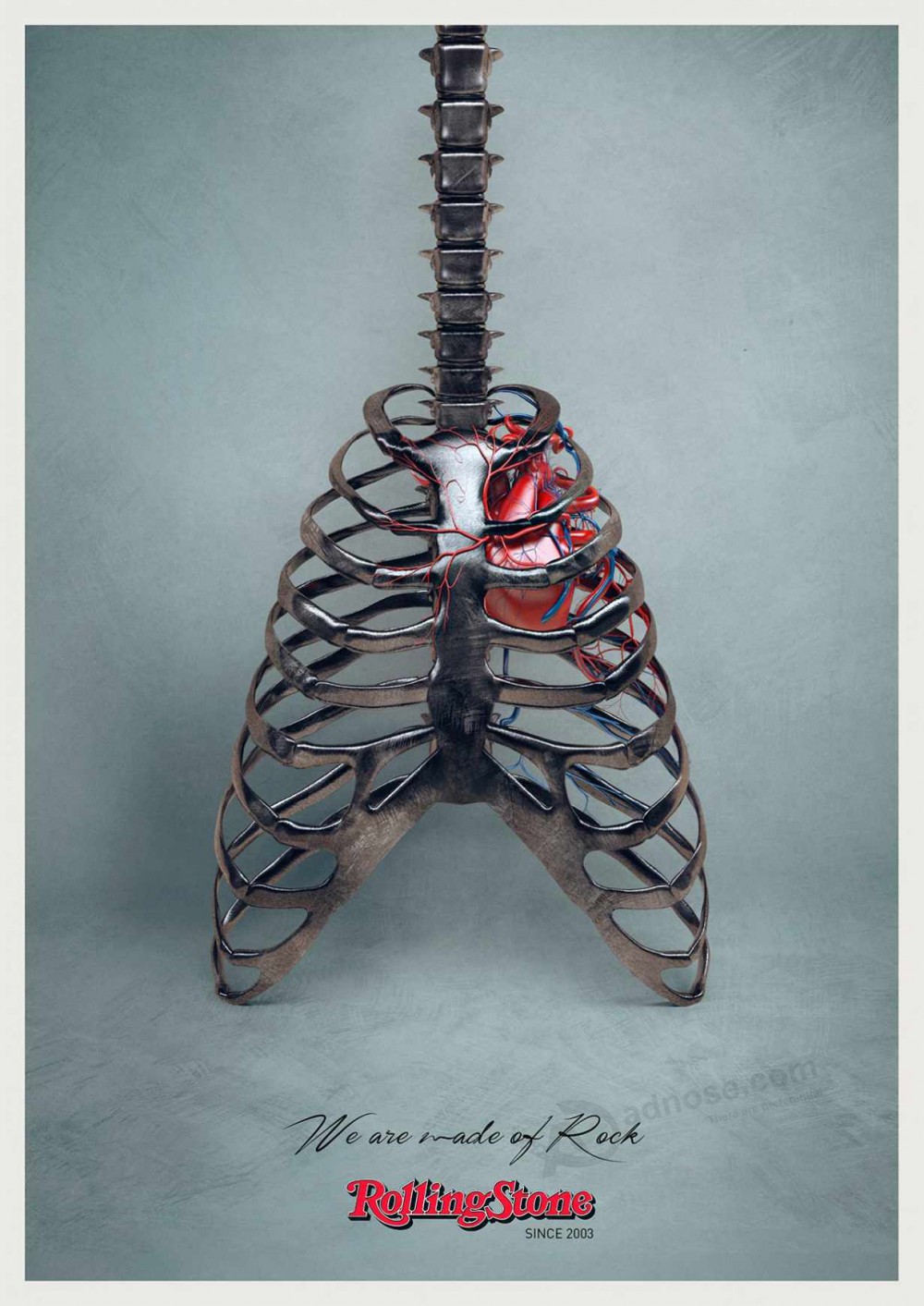 Rock music meets photoshop with this simple and sleek print ad


Created by DLV BBDO in Milan, Italy, this simple execution works wonders for music magazine Rolling Stone. With a brilliant tag line 'We are made of rock,' the brand's attitudes, product and ethos are effortlessly put across with this print advertisement. Using a signature-like font also showcases the rock star aesthetic.


09. Ashtanga Yoga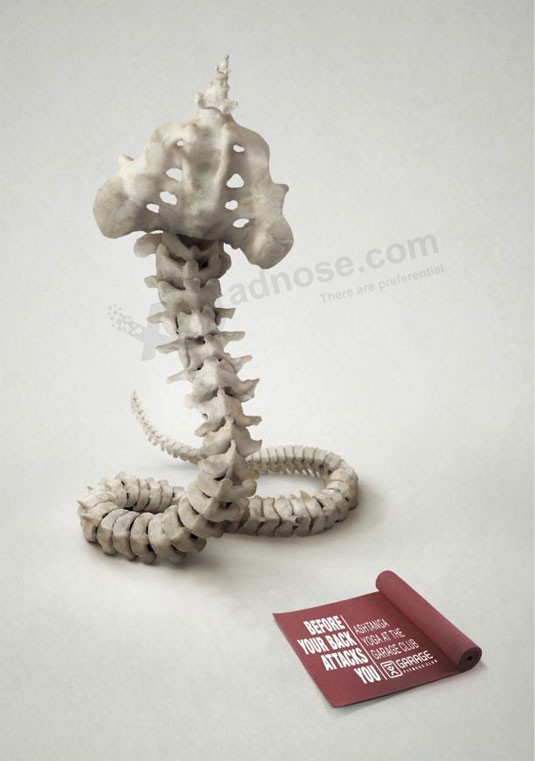 This brilliantly inventive ad hones in on the benefits of yoga practise for your back


Created by Israel based advertising agency McCann Erickson, this print ad for Ashtanga Yoga hones in on the benefits of yoga practise for your back. With a tag line "Before your back attacks you, Ashtanga Yoga at the Garage fitness club", it's a brilliantly inventive ad.


10. Clinica Mosquera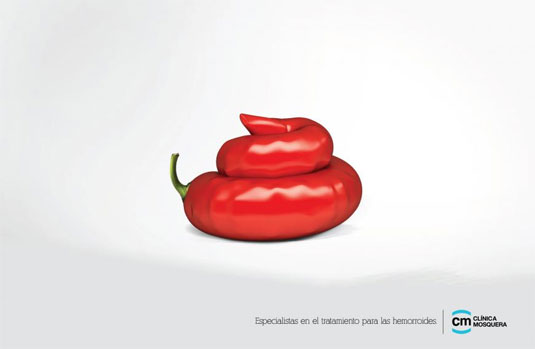 We love how Ecuador advertising agency BBA has applied playful imagery to a sore subject


Although this print advertisement might be a bit too graphic for some, we love how Ecuador advertising agency BBA has applied playful imagery to a sore subject. The 3D rendering is brilliant with everything from the colour to the shading popping out of the page.


11. Penguin Books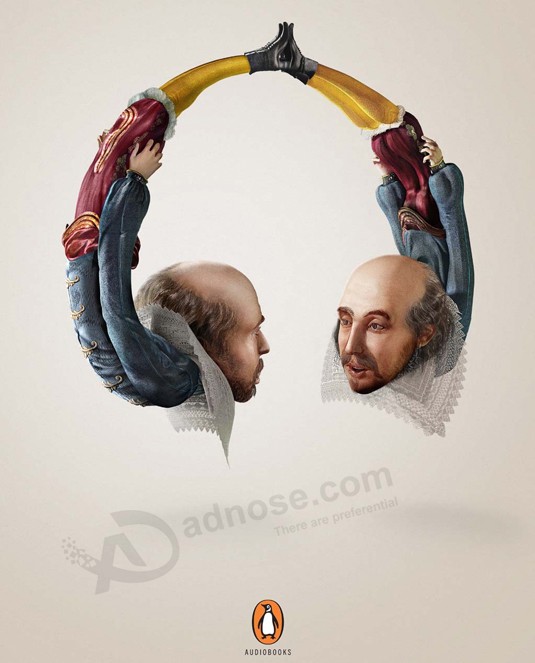 Last year, Penguin Books promoted its audiobooks with a brilliant print ad campaign featuring illustrations of three well known authors - William Shakespeare, Mark Twain and Oscar Wilde - acting as headphones and whispering in the ears of their listeners.
Developed by team at McCann Worldgroup India, the campaign went on to won a Gold Press Lion at Cannes International Festival of Creativity


12. Moms Demand Action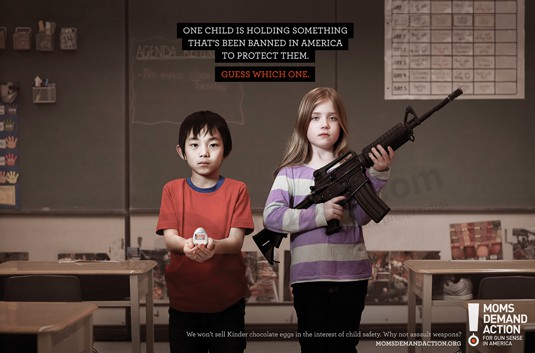 Moms Demand Action as if a Kinder Egg is banned in the US to protect children, why not assault weapons?


Moms Demand Action, a collective of mothers calling for gun law reform, was behind this hard-hitting ad campaign, which focused on children in schools.
'Choose One' features children carrying weapons, alongside classmates holding either a Kinder Surprise egg, the book 'Little Red Riding Hood' and a ball from the schoolyard game Dodgeball. One child is holding something that's been banned in America to protect them, with the audience asked to guess which one.
13. Expedia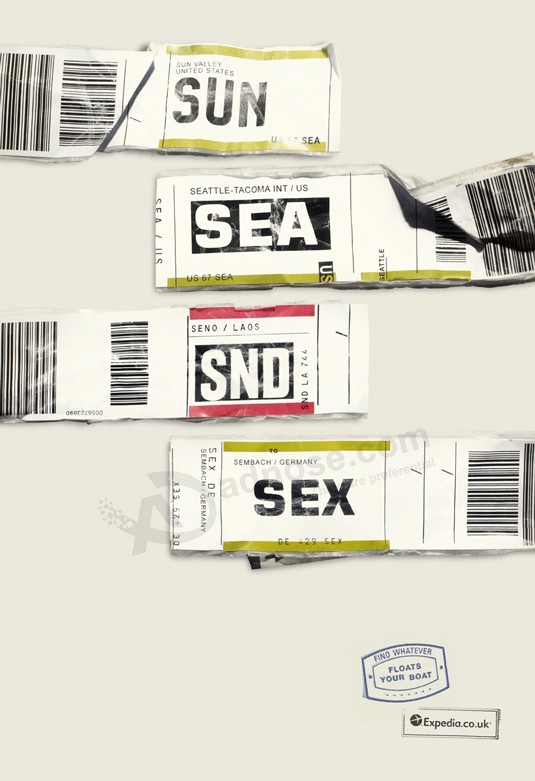 This ingenious pad campaign by Ogilvy & Mather for travel brand Expedia uses airport IATA codes to great effect. The idea came about after the team noticed a woman walking through Heathrow with the word FUK hanging off her suitcase.
With over 9,000 airports around the world, each with its own three-letter code to choose from, the team created a series of prints, using a tagline in the form of passport stamp, which says 'Find whatever floats your boat'.


14. Whiskas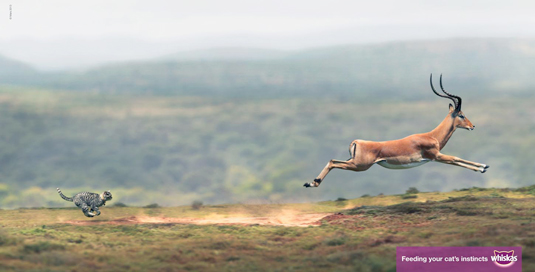 The 'Big Cat, Small Cat' campaign depicts a small furry feline as a big cat in the wild


Abbott Mead Vickers BBDO Whiskas campaign features a household cat in various scenarios in the wild of Africa. Highlighting the basic instincts in a cat, the clever 'Big Cat, Small Cat' campaign was shot by photographer George Logan.
Depicting a small furry feline as a big cat in the wild, the series of prints include the domestic animal hunting down gazelles, elephants and zebras in the wild. And we're particularly fond of the ad that shows fully grown male lion bonding with the same cat as if they were family.


15. Mini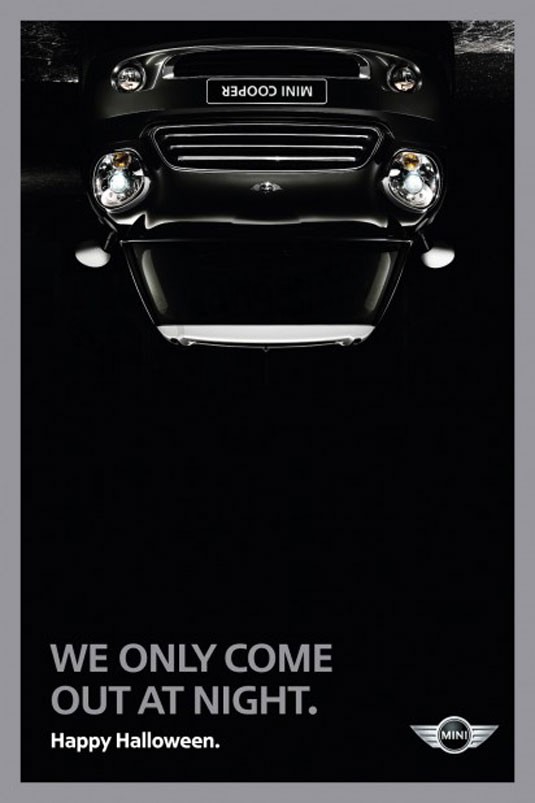 We love this clever Halloween-inspired Mini campaign


When you have such an iconic product as the Mini, you don't always have to do something particularly clever or involved to make your point. And this silly campaign, casting the much-loved motor in an uncharacteristically sinister light, struck just the right note of fun for us last Halloween.


16. WWF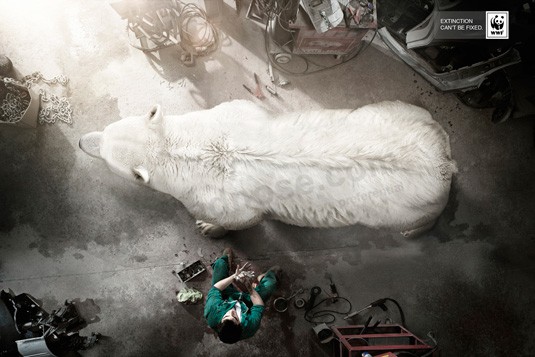 BBDO Spain created this powerful print ad to highlight the issue of extinction


Earlier this month, BBDO Spain released this powerful print ad campaign for the World Wildlife Fund. Featuring a white polar bear in a garage workshop, the aim is to highlight that there are no tools that can fix extinction.



17. Velo marathon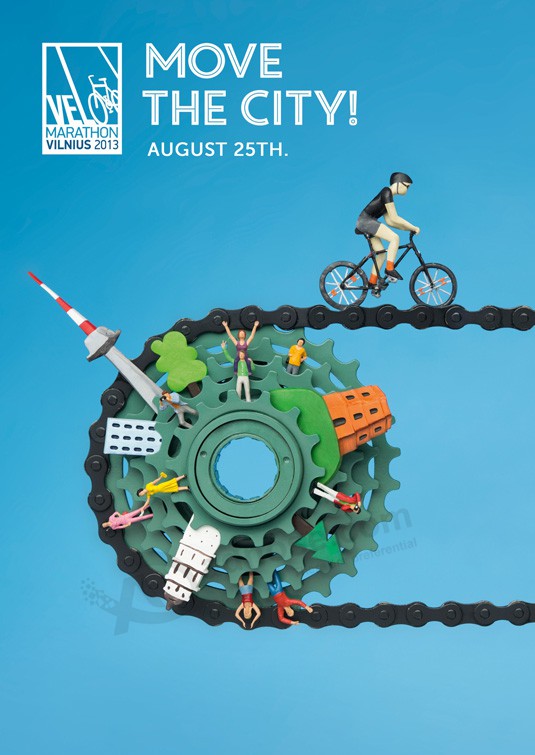 AD McCann Vilnius designed this clever print ad for the annual Velo marathon


We love this design for the European Velo Marathon, an annual biking event in which around 10,000 cyclists take part. Designed by McCann Erickson, Lithuania, the clever concept features a city-like scene set on the gears of a bike, accompanied by the tagline 'Move the City'.


18. Volkswagen
Turn on your adventure with this new print ad campaign for Volkswagen


To advertise the fact that you can get more than 620 miles out of single tank of fuel with Volkswagen's Amarok, ad agency Below developed a series of print ads, inviting people to 'turn on adventure'. The clever concept features three images with the groves of the car keys transformed into a city, safari and mountain landscape.


19. Alzas Bajas magazine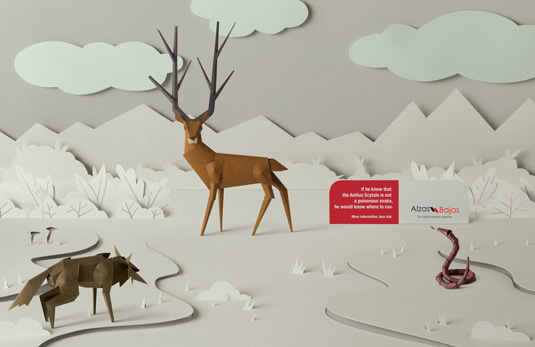 This beautiful print ad was developed by JWT for Argentinian magazine Alzas Bajas


This beautiful print ad was developed by JWT, Buenos Aires for Argentinian magazine Alzas Bajas. The team created four paper art images, including this gorgeous wildlife scene. Each are accompanied a small amount of explanatory text followed by the tagline 'more information, less risk'.


20. McDonald's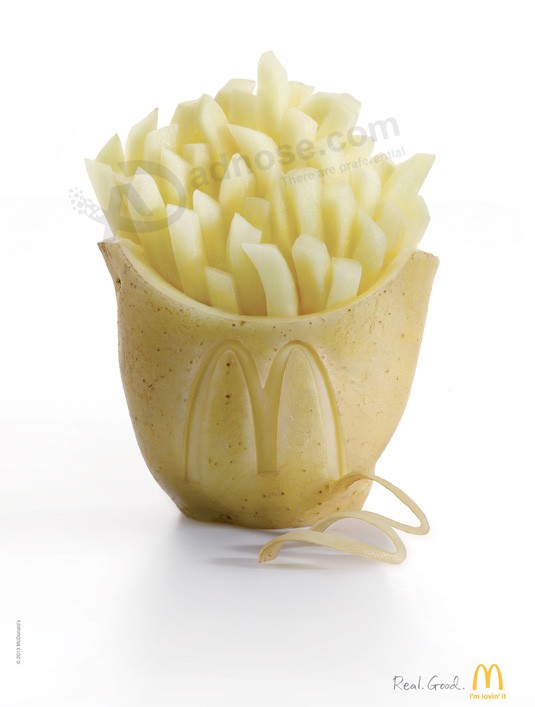 TBWA Shanghai developed this cool new print ad featuring a box of fries carved out of a potato


McDonald's is constantly coming up with innovative new ways of advertising, this brilliant print ad being its latest offering. The eye-catching design, created by TBWA Shanghai, features a box of fries, carved from the very ingredient from which they're made.


21. Duracell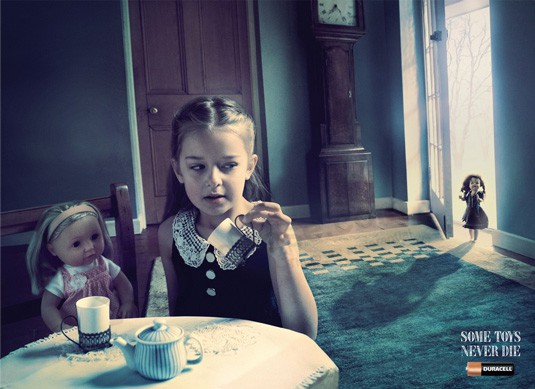 We love print ads that come out of left field - and this is certainly one of them


Terrifying but brilliant, this is one of those print ads that shouldn't work but somehow does. The advertisement for Duracell features a sinister-looking doll in the doorway of a little girl's playroom, accompanied by the tagline 'Some toys never die'.
Developed by advertising agency Grey in Singapore, this is certainly a unique way to promote longer-lasting batteries. It's a bit left-field, and completely terrifying, but we love it nonetheless.


22. Dog Chow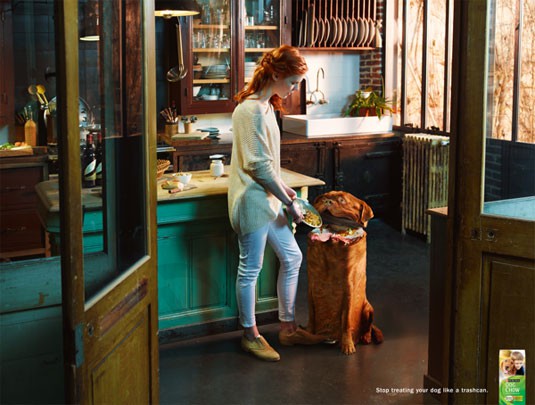 There aren't many print ads that treat dogs so badly - but no animals were harmed in the making of this commercial


The best print ads manage to combine brilliant art direction whilst still maintaining the brand's image and ethos. And here's a great example that instantly put a smile on our faces.
Dog Chow is a brand new dog food from Purina and Columbian designer Cristhian Ramírez was tasked with creating a series of ads for its latest campaign, entitled 'Stop treating your dog like a trashcan'. The creative director and head of art at Publicis, Ramírez produced a number of striking character designs that really hit home when it comes to the health of your dog.


23. SANCCOB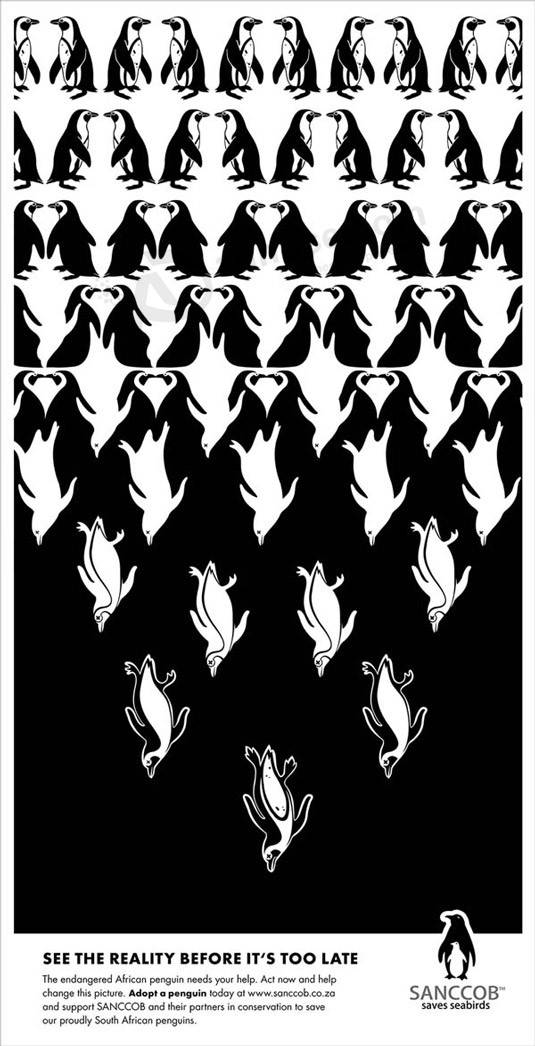 Inspired by the artwork of Dutch graphic artist M.C. Escher, these print ads feature clever optical illusions


A species in rapid decline, the African penguin needs help. South African advertising agency Bittersuite and SANCOOB, a non-profit organisation that aims to protect threatened seabirds, recently developed this innovative series of print ads to raise awareness of the penguin's critical situation.
Inspired by the artwork of Dutch graphic artist M.C. Escher, two of the designs feature clever optical illusions to draw the viewer in for a closer look and get their message across. The third draws inspiration from optometrists' eye charts, featuring a timeline of different sized penguins to show the decline in the species.


24. Ottawa International Animation Festival (OIAF)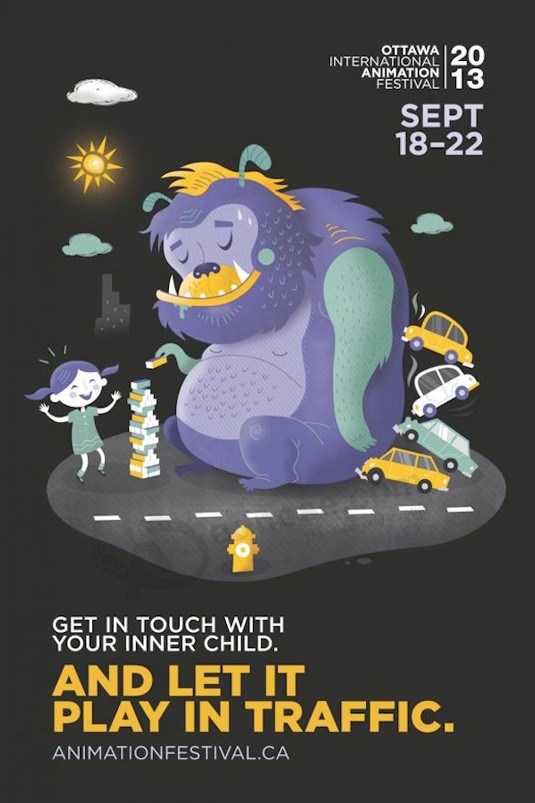 The cartoon-style characters and graphics in these print ads maintain a fun, tongue-in-cheek element


Ad agency McMillan encourage animation lovers to rediscover the child inside with this new print ad campaign promoting the Ottawa International Animation Festival (OIAF).
Each of the five print ads features a gorgeous illustration and the tagline 'Get in touch with your inner child'. Some of the drawings contain mature content but the cartoon-style characters and graphics maintain a fun, tongue-in-cheek element to the campaign.


25. Dumb Ways to Die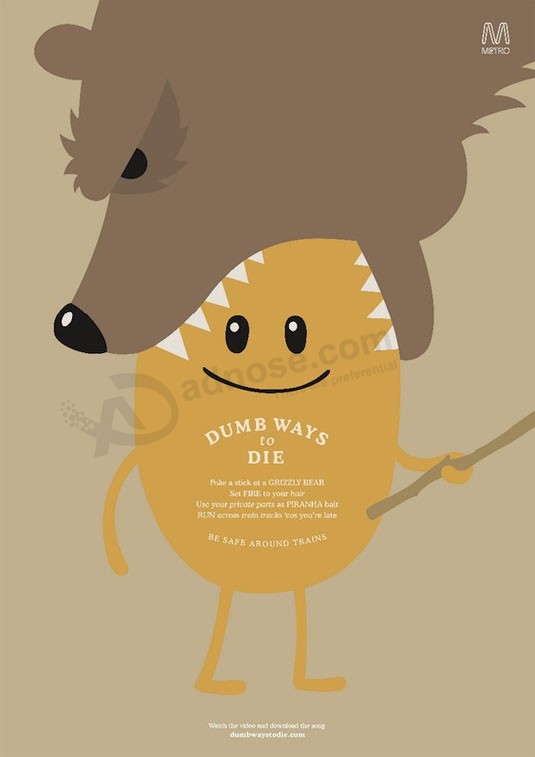 From digital to print - Dumb Ways to Die works perfectly with both


Back in November, Melbourne Australia's Metro train system decided to take a different approach to public safety video. Their ad 'Dumb Ways to Die' – featuring animated characters playing out the lyrics of a comedy song about idiotic deaths – quickly became a viral hit and won a series of awards. The campaign, created in conjunction with Melbourne ad agency McCann, has now inspired a series of print ads - and they're just as brilliant. We love how the cuteness of the character designs is balanced by the goriness of their deaths.
26. Publinews Braille Edition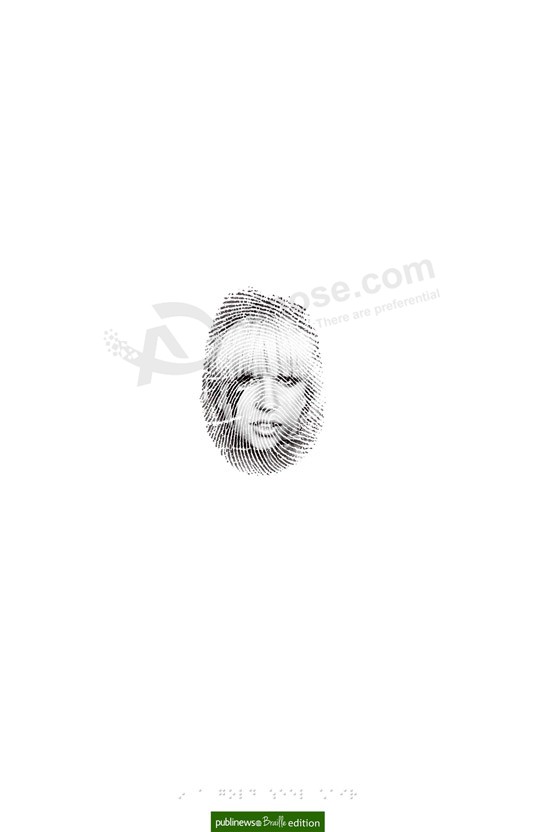 Lady Gaga's illustration is accompanied by the braille caption 'She recovers in a golden wheelchair', which refers to her recent request for one after hip surgery

International journal Publinews recently commissioned ad agency el Taier/Tribu DDB and creative director Jorge Solórzano to create a set of prints to advertise its braille edition. The minimalist ads feature illustrations of Lady Gaga, Hugo Chavez, Kim Jong, Lionel Messi and Pope Francisco among delicate fingerprints. Each is accompanied by a caption relating to recent news about each individual.

27. Wacom Bamboo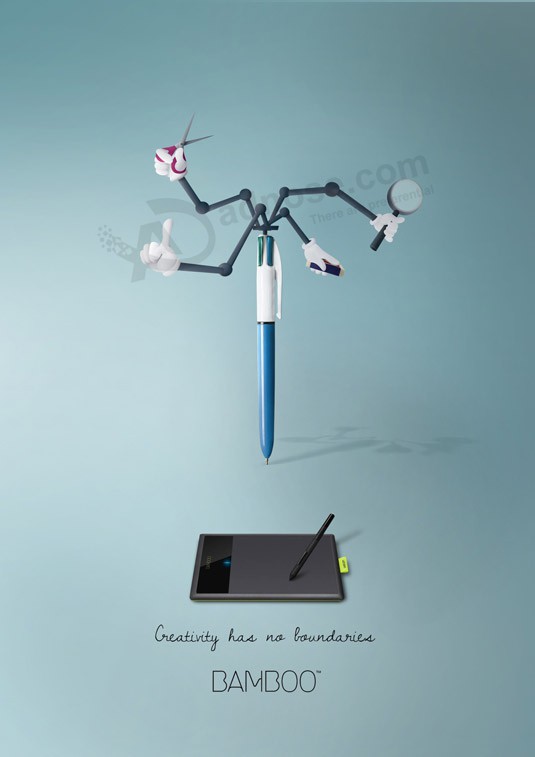 Creativity has no boundaries in this new print campaign for Wacom Bamboo

To promote design tablet king Wacom's popular Bamboo products, art director and illustrator Maria Molina developed this set of prints under the tagline 'Creativity has no boundaries'. The series includes three illustrations, each featuring various designer tools with a twist. Bright colours, minimal text and simple graphics work perfectly together in this campaign.

28. Holes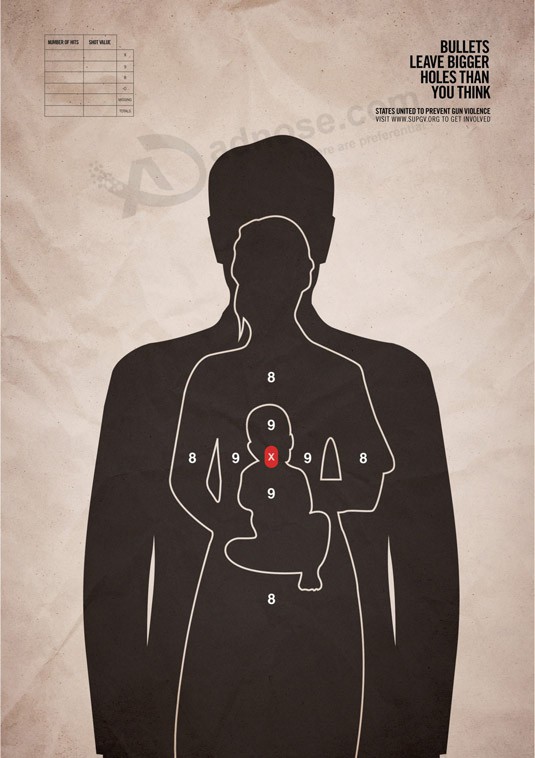 Ad agency Grey New York developed this hard-hitting print campaign for non-profit organisation States United to Prevent Gun Violence

This hard-hitting print ad campaiging against gun violence comes from advertising and marketing agency Grey New York. The campaign, which features three human targets, including a small baby, calls for an update to the USA's antiquated gun laws. The ad, commissioned by non-profit organisation States United to Prevent Gun Violence, features the tagline 'Bullets leave bigger holes than you think'.

29. SMS mistype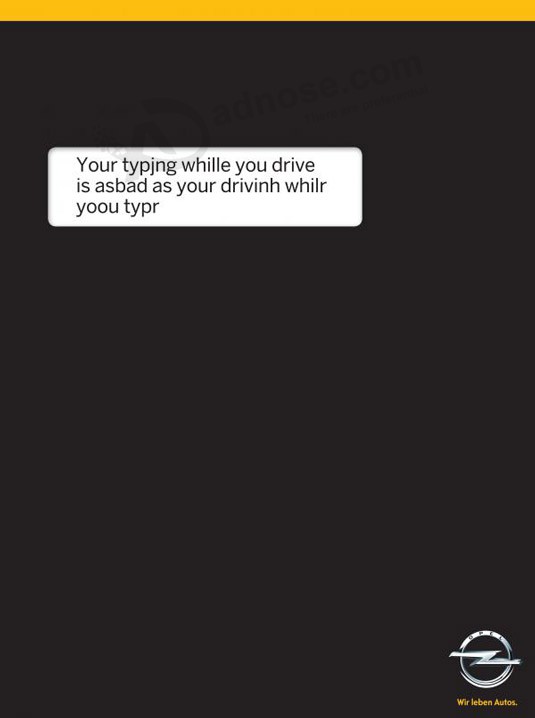 Get the message?

We all know the dangers of using a mobile phone while driving. But we really like the simple but clever way ad agency Gitam BBDO points out the obvious facts in this road safety message from car manufacturer Opel. The cool print has a black background, replicating a phone while at the same time making the white box of text all the more prominent. A simple but really effective concept.

30. Pie Chart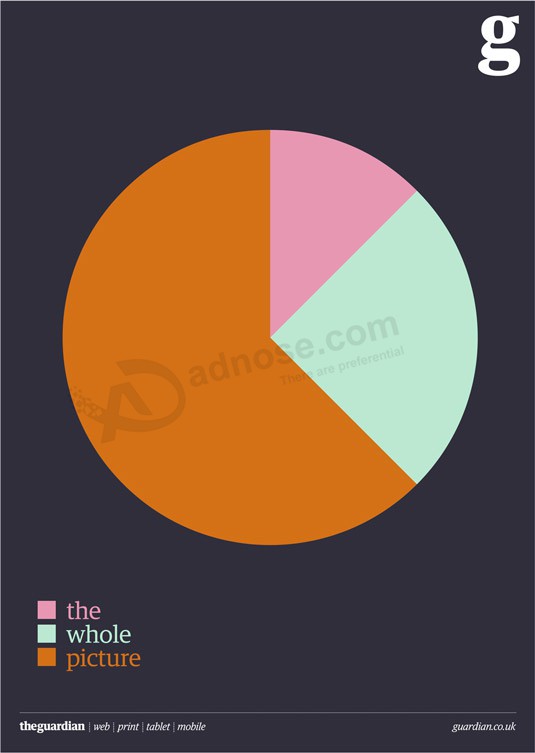 The Guardian shows its readers that with its publication they get the full story

UK newspaper The Guardian recently commissioned advertising agency BBH London to create this eye-catching print to show its readers they get the full story. The print is clean and cleverly designed to convey its message. With a purple background, the piece features a simple pie chart, The Guardian logo and a legend with the words 'the whole picture' next to each colour.

31. Dallas Farmers Market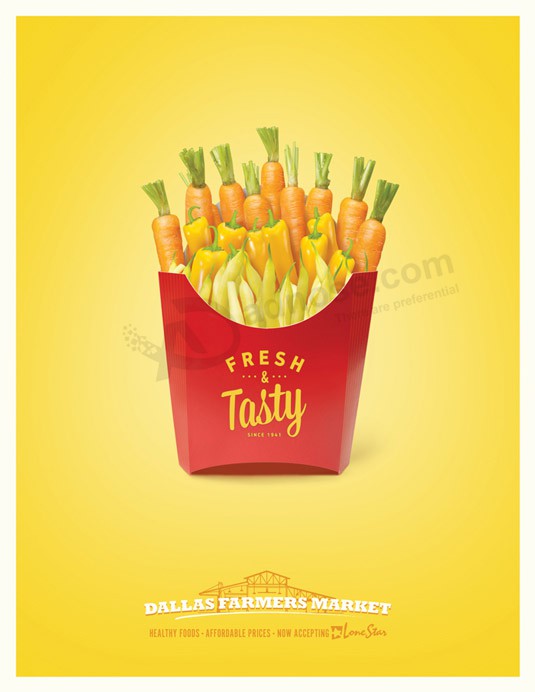 Fresh veg makes up a box of fries in this clever campaign for Dallas Farmers Market

Healthy foods at affordable prices. That's the message behind this clever campaign from ad agency Firehouse for Dallas Farmers Market. Illustrations of fresh fruit and veg cleverly make up a box of fries, hamburger, bag of sweets, and an ice cream in the series of colourful posters.

32. Powers Whiskey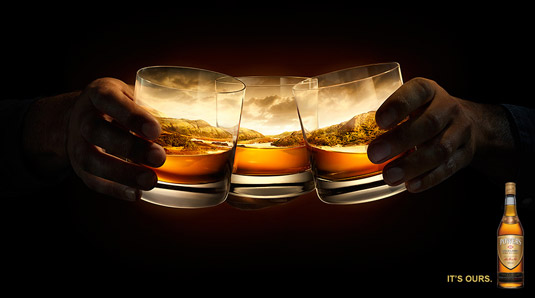 Taylor James and Andy Glass joined forces to create this cool print campaign for Powers Whiskey

Powers is the second biggest whiskey brand in the Republic of Ireland. To promote it, photographer Andy Glass collaborated with creative production studio Taylor James, resulting in a series of gorgeous prints depicting its honey notes, earthy tones and distinctive barley essence. The Taylor James team integrated Glass's landscape photography into the liquid and retouched the four images to create a beautifully photorealistic look for the outdoor print campaign.

33. Schusev State Museum of Architecture
Discover the full story of some of Russia's most famous buildings at the Schusev State Museum of Architecture

This beautiful illustration of St Basil's church in Moscow was created by ad agency Saatchi & Saatchi to promote the information available at the Schusev State Museum of Architecture. The campaign features a series of beautiful photographs of famous Russian landmarks, all of which travel underground and feature the tagline 'Discover the full story'.
34. ondAzul NGO: Sardine
Click the image to see the full size ad

With a tag line of, "Is it what you expect to find in the sea? Neither do the fishes", there's plenty you can work with. Advertising agency Quê based in Brazil went with this strong idea across three print ads.
The photography is exceptional, with the clashing colours and careful shadow work. We especially fell in love with the font used for the hard-hitting slogan - almost childlike, it evokes the innocence of nature and the danger that the sea faces.

35. Parma Dairy Products: Story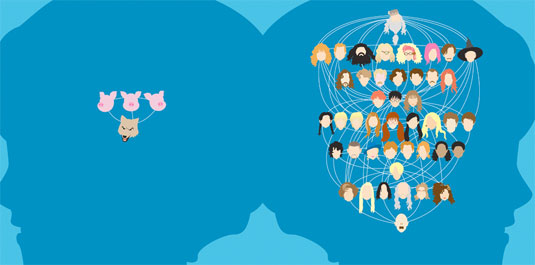 Click the image to see the full size ad

Dairy products often try to target the parent market as we all know that kids need it to grow big and strong. Sometimes, these ads can seem a little forced and often appear a bit too cutesy for our liking but this effort from El Taier/Tribu DD is brilliant.
Using two instantly recognisible stories for both parent and child, this advert will appeal to both. The simple illustration makes it clear and consise without being too busy. The campaign features cameras and games consoles but it's this sweet story approach that really caught our eye.

36. Baruel Foot Deodrant: Puppet dumped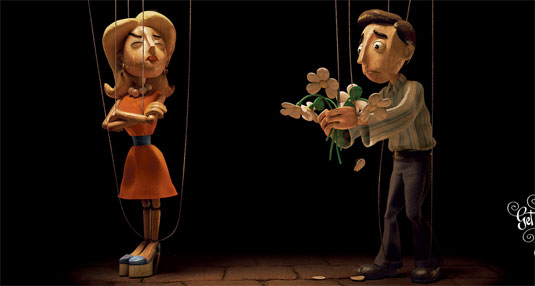 Click the image to see the full size ad

At first glance, we didn't quite get this ad. But a little look closer and we can see the attention to detail and brilliant art direction that's been gaining this ad a lot of love. As it's for a foot deodorant, the puppets are actually being controlled by feet instead of hands; a humourus touch to a not-so-sexy brand.
Created by advertising agency Z+ Comunicação in São Paulo, Brazil, the whole series features a number of dumping situations including bosses and landlords. We fell in love with the puppets themselves - click on the image to see the incredible detail.

37. Wrigley's Orbit: Chicken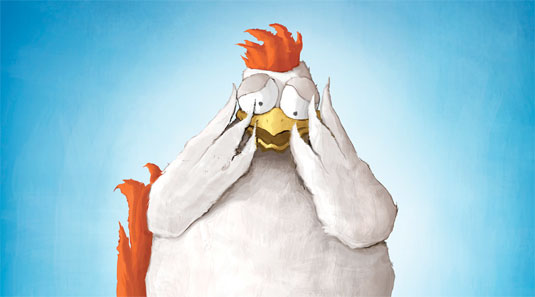 Click the image to see the full size ad

Wrigley's have a history of doing some great print advertising work and this campaign is no exception. The colouring and illustration are what initially caught our eye but the silly slogan it ties in with works perfectly. "Don't let lunch see breakfast", just look at the poor chicken's face!
The illustration was crafted by Gabi Kikozashvili, with advertising agency Gitam BBDO leading the campaign. The other ad features a cow mourning its milk but we like the chicken best!

38. MasterCard Canada: Women's Golf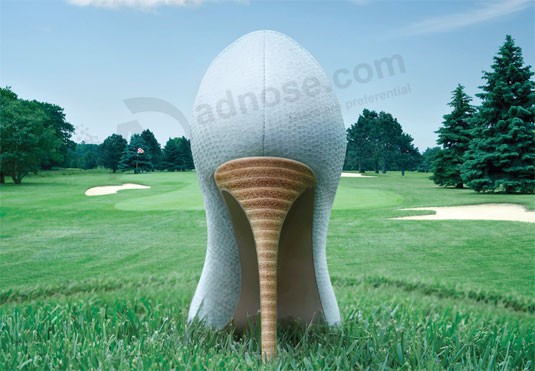 Click the image to see the full size ad

Tackling women's sport in advertising can be tricky. If you over-feminise, it can mean the wrath of many but if you don't experiement enough, it could mean a lousy campaign. Thankfully, Mastercard have mastered the subject matter with this clever and cute ad for the Women's golf tournament.
Applying their well known 'priceless' slogan, this campaign was created by Canadian advertising agency MacLaren McCann. The photo editing and treatment of the colours are what makes this one.

39. B&B Hotels: Bacon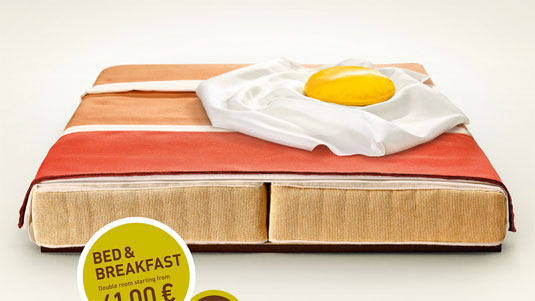 Click the image to see the full size ad

This smart ad from creative German agency Publicis is a work of art. Bed and breakfast adverts can often be dull and regurgitated in their concepts but this campaign is a feast for the eyes.
Engaging the reader with quirky manipulation, it takes a while for the art direction to really sink in but once it does, we instantly fell in love. The rest of the series features a cheese sandwich as well as sausages on toast but we picked this purely for the egg yolk pillow!

40. National Geographic Kids Magazine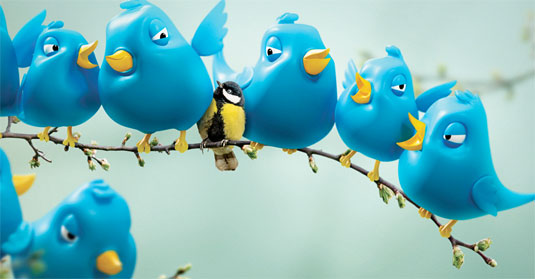 Click the image to see the enlarged ad

National Geographic are arguably the most well-respected nature experts but kids these days may not take notice of them thanks to the ever-expanding array of distractions in games consoles and social networking sites.
Cape Town's advertising agency FoxP2 took matters in their own hands and decided to combine the two - nature and technology. The instantly recognisible blue bird, crafted in 3D software juxtaposed next to the beautiful real life bird makes nature stand out for all the right reasons. Instantly eye-catching!

41. Panasonic 3D TV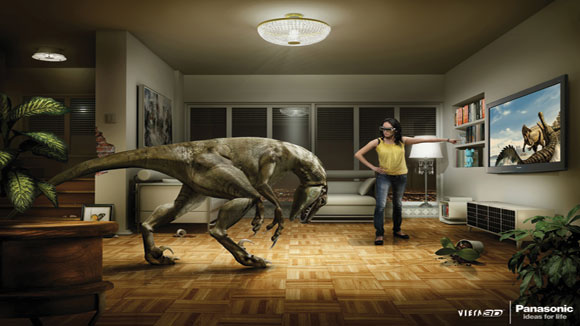 Click the image to see the enlarged ad

This print advertising campaign from Panasonic immediately caught our eye. It's clever and funny whilst showing off the technology to its fullest potential. They certainly had some very talented hands on board including creative director Christian Quintana, art director Edison Saravia, illustrator Ricardo Salamanca and photographer Patricio Pescetto.
The attention to detail in this ad, on the likes of the dinosaur and the shadow/lighting effects, make all the difference. The 'old-fashioned' furniture also showcases the juxtaposition of the Panasonic 3D television, nicely highlighting the product.

42. Celcom Broadband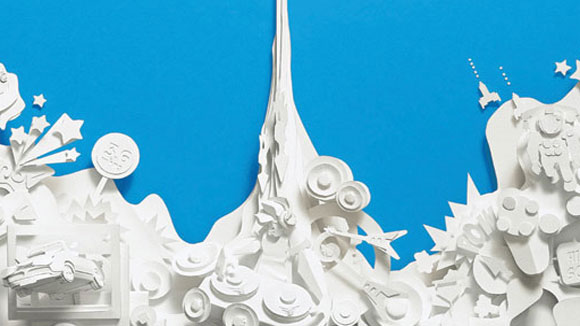 Click the image to see the full size ad

The art direction in this campaign really blew us away. The use of paper is a tried and tested method, but Celcom manage to make it their own and highlight their tag line 'Plug in. Blast Off.' The idea is that their customers are able to access the internet wherever they are, whenever they want and whatever they need it for; hence the endless array of paper objects projecting from the dongle.
This print ad has a childish feel to it that showcases the imagination and limitless world of the internet. A simple concept faultlessly executed, which makes for a great campaign from M&CSaatchi.

43. Scrabble Squirrel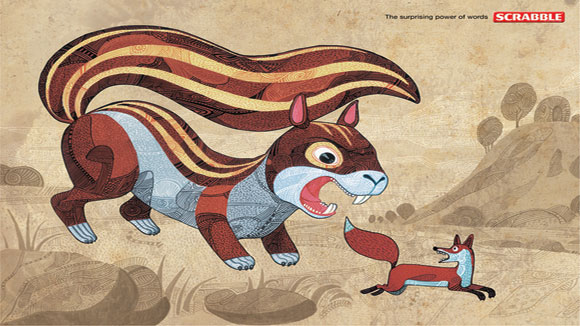 Click the image to see the enlarged ad

Scrabble has been around for decades, and has popped up in plenty of print advertising campaigns. However it was this offering, taglined 'The surprising power of words', that has gained critical acclaim. We love the playful illustration and the huge metaphorical squirrel finally getting its revenge on the fox.
Of course, in the game the word 'squirrel' would receive more points than the word 'fox', which explains the idea behind this print advertising. Hats off to art directors Heeral Desai Akhaury and Pushkar Shintre for their mischievous take on a much-loved family board game.

44. Maximidia Seminars: Vintage Twitter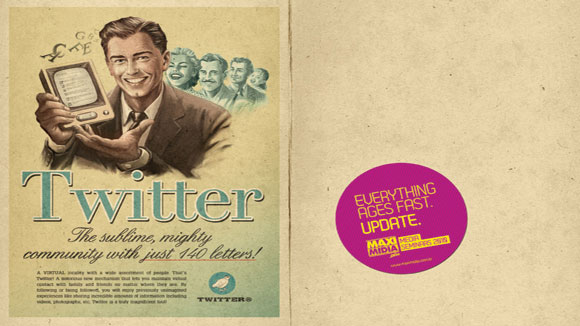 Click the image to see the enlarged ad

We love a bit of vintage at Creative Bloq and this print advertising campaign is a great example of how quickly technology and obsessions with social media change. The series contains plays on Facebook, Skype and YouTube, which has had graphic designers praising ad agency Moma for their innovative campaign.
The juxtaposition of an old-fashioned, tired looking print advert, with its old-school font and traditional illustrations compared to the brightly coloured logo of MaxiMedia, helps make the brand and the ad's purpose stand out instantly. A job well done.

45. Tooth Avenue Dental Care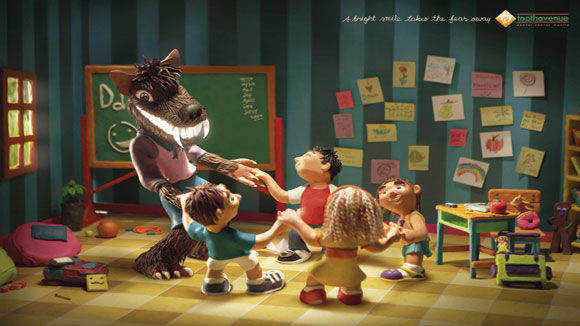 Click the image to see the enlarged ad

There's nothing like a fantastic execution of clay models and this campaign from DM9JaymeSyfu does just that. Everyone hates going to the dentist (especially kids), so what better way to entice them than with this cute play on the big bad wolf? The wolf's teeth pop out of the page, solidifying the ad's success for its purpose.
The colours also play a huge part in the execution, as its use of yellow and blue undertones make this print ad comforting whilst still being bright enough to catch the reader's eye. A campaign to make you smile.

46. Pilot: Water Restraint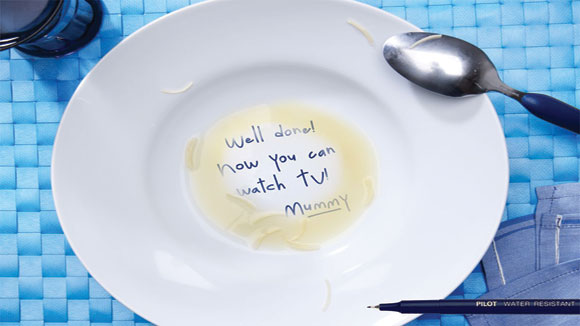 Click the image to see the enlarged ad

With a tagline of 'Pilot. Water Resistant,' the possibilities were endless. However, advertising agency GREY from Barcelona decided to take the simple approach; and it certainly paid off with this bright and nostalgic print advertising campaign. The colours are what instantly draw you in, with the undertones of blue miming those of the pen.
The text within this ad can either be nostalgic for the reader or hugely identifiable for parents, which ensures that it speaks to a wide range of consumers. A perfect balance of purpose and execution.

47. ThaiHealth Promotion Foundation: Bike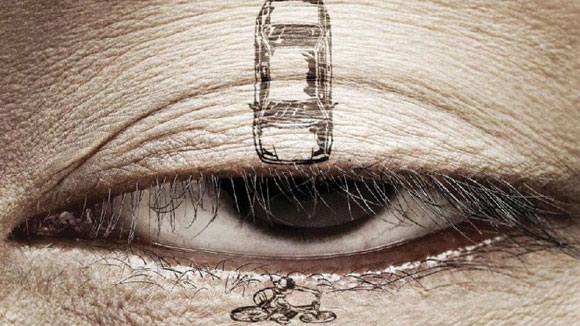 Click the image to see the full size ad

We've all seen the television campaigns and disturbing print advertisements for driving awareness. It seems to always feature an image of a recently deceased pedestrian or a horrific crash. But instead of using these traditional tactics, advertising agency BBDO in Bangkok came up with this hugely creative idea.
The 'Don't Drive Sleepy Project' is one that adheres to all drivers and the simple illustrations ensure the seriousness of this print advertising campaign hits home. The tag line 'sleepiness is stronger than you' couldn't be executed more perfectly.

48. Bosch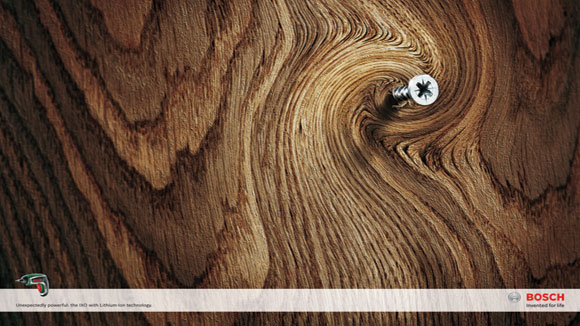 Click the image to see the enlarged ad

Hats off to the effects team behind this brilliant piece of print advertising for Bosch. The wood effect is striking for all the right reasons whilst still being able to ensure it doesn't look overdone and ridiculous. The tagline for the campaign, 'unexpectedly powerful', is expertly showcased; the power of the drill has actually spiralled the wall.
Now, we know most consumers wouldn't like this to actually happen to their wall but the point is put across. The colour blending is also hugely impressive. This print advert is instantly eye-catching, which after-all, is pretty important in this business!

49. Kitchen Aid Blender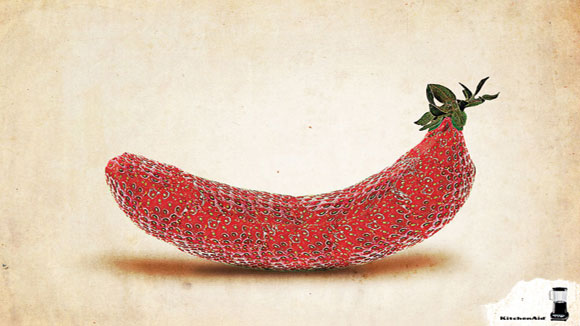 Click the image to see the enlarged ad

This quaint ad didn't need any frills to get its message across. It's for Kitchen Aid, a high-tech blender which is used for smoothies and such. Of course, bananas and strawberries will get throw into the mix and this campaign simple executes the finished product: a strawana? a banaberry?
Anyway, we love the use of colour; the attention to detail; and the expert shadow effects. The small details are what could make or break a print advertising campaign, and we think it's a winner.

50. Band Aid: Hulk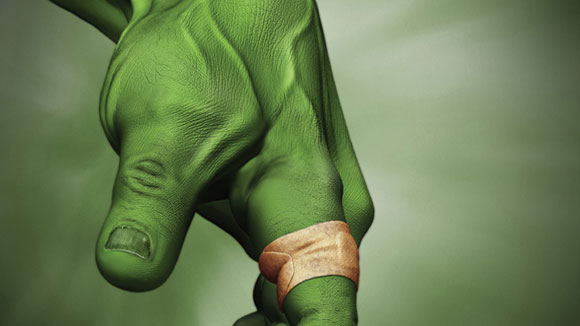 Click the image to see the full size ad

The recent release of Avengers Assemble saw Hulk thrust into the spotlight once more. We're certainly not complaining (he's awesome!) and it certainly calls for endless creative executions. This print advertising campaign from Band Aid showcases the ability of using a well-known character to the maximum effect.
There's no text or tag-line; just the clean image of Hulk's hand, along with the product in the bottom left-hand corner. It perfectly executes the product's strength thanks to applying it to the world's strongest character